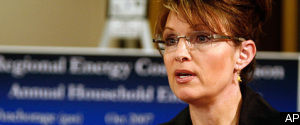 I came across a very interesting article on Sarah Palin, John McCain's surprise, slip me a Mickey, choice for vice-President.  Apparently not too many in the general public had any idea of who she was until now.  This Article is written by an Alaskan and it is a very good read.  Please check it out here :
Also, many news sources are reporting that there is little evidence that Palin and McCain even know each other.  Reports are that they only met once back in February.  I'm not sure about this one.  I can't understand for the life of me why a Presidential candidate would choose someone he hardly knows as a candidate to support him and his administration and potentially be the leader of the free world.  Sounds really fishy.  If all of this is true, does this proove that McCain is truly out of touch?  Does it proove that he's doing nothing but playing the same crazy political games that have decimated our economy and standing with the international community and Americans at home?
Media is also reporting that this pick may bring dissension in the Republican party.  Many in the party feel that Pawlenty and others were merely used as distractions while McCain went "out on a limb" and picked Palin for the shock value of it all.  This is definitely not a great way to start off your "administration".  If you don't believe me, ask your mentor G. W. Bush.  He alienated almost all of the international allies for personal and selfish reasons and look where it got us – going billions of dollars in debt funding a war to help"victims" that have an economy with a $79 billion surplus.  Great work G.W.  I can't wiat to read the history books on this one.
Anyways.  Just trying to put some "brainmunchies" out there.  Just think about it.