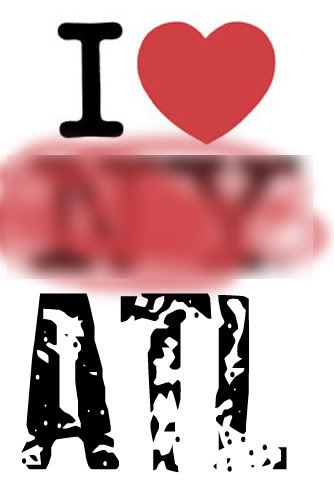 For the past 2-3 years or so I've had this strong ambition that Atlanta wanted to become the "New York City" of the south. Well, it seems that we're well on our way as the city continues to do things to position itself as such. For example, the foreclosure rate in Atlanta has increased 75% since June, yet in any community you can see high rise condos, townhomes, apartments, and "McMansions" popping up all over the place. Bars and nightclubs along a popular stretch of Buckhead, the city's ritzy pay to play area, were torn down for development of our own version of what has been dubbed "Rodeo Drive" or "5th Avenue". More and more we are starting to see many corporate players relocate their businesses and high ranking personnel to the metropolitan area, Pop Music, er um, Rap Music (sorry for the confusion) now has a vacation home in the south, "Broadway Shows" are becoming the next big attraction and with the unfortunate demise of the physical resources in New Orleans, Atlanta has become the south's number one place for conventions. All I can say is, Good Riddance to the city I used to love.
They say that you always have to build for the place that you'll become and it seems as if that's the city's new motto. I know growth can be an incredibly positive thing, but with the good you have to take the bad. It's just so sad to see so much of the city's green space disappear into oblivion in favor of Wal Marts, Targets and other shopping centers. I mean really, is there a need to have two of the same store within 2 miles of each other? The city's crime rate continues to climb the charts while the toxins in the air continue to degrade our breathable quality. Traffic is at an all time worst which is mainly because the city is growing faster than the public transportation system will adapt. **HINT HINT – MARTA – If you spend more time, money and effort on the development of rail lines that service the major employment and shopping hubs in the city, you could make a lot more money and the roads and highways would thank you greatly!
I guess I'm just venting because things aren't what they used to be. That's what I used to like about Atlanta – the fact that you didn't feel like you were in a downgraded version of another popular city. We had our own thing going on down here. With all that said, I guess I'll just move to NY since everyone is coming here. At least there's beaches, oceans and lakes all around the city. Let's see you beat that one ATL!